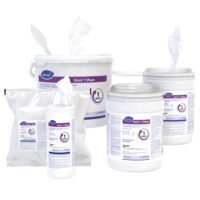 Next generation ready-to-use disinfectant cleaner based on proprietary hydrogen peroxide (AHP®) technology to deliver fast, effective cleaning performance. Disinfects in 1 minute or less making it the shortest contact time in our portfolio of disinfectants, with ~100 total claims and now effective against Candida auris.
Virucide, bactericide, tuberculocide, fungicide and non-food contact sanitizer. Kills MRSA and Norovirus. Meets bloodborne pathogen standards for decontaminating blood and body fluids.
This product can be used in multiple areas including operating rooms, long-term care facilities, medical facilities, animal treatment facilities, cruise ships, hotels, public buildings, public restrooms, recreational facilities, retail businesses and schools (colleges and universities), and is compatible with most hard, non-porous surfaces.