Enhanced disinfection
Provides additional disinfection for surfaces that may have been missed in cleaning
Ideal solution
For frequently-touched, hard-to-clean surfaces and intricate, hard-to-wipe equipment. Fume-free, chemical-free disinfection
Whole-room disinfection
Of high-touch surfaces and equipment including patient bed area, bathrooms, fixtures, work stations on wheels (WOWs), etc.
Three adjustable heads
Each generating a broad umbrella of intense UV-C light. Cost-effective operation – low operating cost and minimal maintenance, as well as effectiveness on both horizontal and vertical surfaces in the line of sight of the UV light
Base unit
Locking casters allow easy movement and positioning anywhere. UV-C heads unfold for positioning in seconds
Remote cover
Controls operation and acts as a sensor during disinfection to ensure safety. The cover also protects light heads and enables convenient transport from room to room. The optional multi-access point motion sensor also available
Intended use
The MoonBeam3 UV-C Disinfection System is intended to be used by trained personnel in conjunction with other low and intermediate-level disinfectants to reduce microbial contamination on non-critical, hard, non-porous surfaces. It has been shown to be effective against a broad range of viruses, bacterium, and spores, including Methicillin-Resistant Staphylococcus aureus (MRSA), Pseudomonas aeruginosa, Influenza A virus, Norovirus, Mycobacterium bovis (TB surrogate), and Clostridium difficile. MoonBeam3 is not intended to pre-clean or decontaminate medical devices prior to terminal sterilization or high-level disinfection, nor is it intended to replace manual cleaning and disinfection with low/intermediate-level liquid disinfectants.
How it Works
Bringing together UV-C angle of incidence and inverse square law to optimize resultant energy and destroy pathogens is paramount. Read More >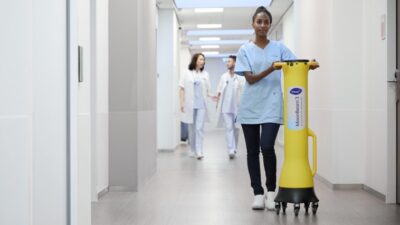 The Solution – MoonBeam3
Diversey offers cost-effective, best-in-class equipment to create a safer and more satisfying environment of care. Read More >
Customer Testimonials
What customers say about their MoonBeam experience.