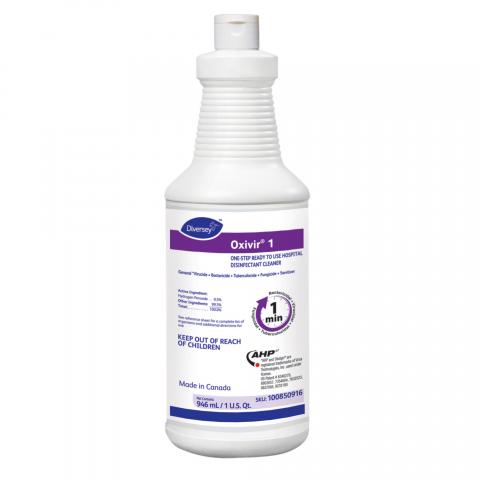 Next generation ready-to-use disinfectant cleaner based on proprietary hydrogen peroxide (AHP®) technology to deliver fast, effective cleaning performance. Oxivir® 1 RTU disinfects viruses and is a soft surface sanitizer, both in 30 sec. It is a 1 min bactericidal, fungicidal, tuberculocidal and 10 sec non-food contact sanitizer. Kills MRSA, Norovirus, RSV and Adenovirus. Meets bloodborne pathogen standards for decontaminating surfaces soiled with blood and body fluids.
This product kills germs and destroys allergens while cleaning hard non-porous surfaces. Colorless with a characteristic scent.
This product can be used in multiple areas such as operating rooms, long-term care facilities, medical facilities, animal treatment facilities, cruise ships, hotels (motels), public buildings, public restrooms, recreational facilities, retail businesses and schools (colleges and universities).