Meet an Innovator: Saint Francis Medical Center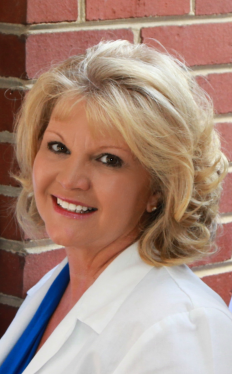 Teaming Up to Win the War Against Multidrug-Resistant Organisms
 "Cooperation is the thorough conviction that nobody can get there unless everybody gets there."– Virginia Burden
St. Francis Medical Center is the largest hospital in Northeast Louisiana, with over 2,200 employees and more than 300 physicians who provide quality care in 45 medical specialties.  In 2013, St. Francis Medical Center was recognized as one of the best hospitals in Louisiana, and has been recognized for their quality of care in several specialties.
As you can imagine, this organization must be constantly focused on continuous improvement to maintain their quality reputation.  We'd like to share a story of how their ability to come together and focus on improvement created a safer environment for their patients.
Late in the summer of 2012, St. Francis discovered six patients with multidrug-resistant Acinetobacter baumannii.  Upon further investigation, it was determined that four patients, with this pre-existing condition, had recently been admitted into the facility.
The organization quickly came together to respond to this new threat and developed a plan to ensure the safety of these and other patients.   As a first step, the facility leveraged their automated surveillance system to quickly identify patients who were infected and needed to be isolated.  They used the tools within the system to educate the staff and alert them to the risk.
The entire staff was trained on the significance of this multidrug-resistant strain of Acinetobacter baumannii and put on high alert.  Education focused on how this pathogen could be spread, and what each staff member could do to prevent transmission and the development of reservoirs.
St. Francis also did an immediate assessment of the cleaning protocol used by the housekeeping staff in their facility.  They reviewed their products and processes, and determined that there were areas that could be improved, starting with the disinfectants that they were using.  Their current disinfectant required a 10-minute contact time and keeping environmental surfaces wet for that period of time would be difficult for their housekeeping staff to achieve.  They realized quickly that they needed to find a disinfectant with a more realistic contact time to ensure disinfection compliance was achieved.  The facility made the decision to move to an accelerated hydrogen peroxide-based disinfectant that had a contact time of just five minutes, and revised their current cleaning and disinfection processes to include this new product
St. Francis then assessed the housekeeping staff and procedures.  They set up an enhanced training process, which included a dedicated training room.  Each housekeeping staff member was trained and assessed to ensure they could meet the facility's cleaning and disinfecting expectations.  If gaps were identified, they were addressed through retraining.  The combination of the new, faster disinfectant, improved protocols, and enhanced training really set this team up for success.
"Use all of your resources", advises Tammie Lee, RN, CIC, Infection Preventionist at St. Francis Medical Center, Monroe, LA.  "Picking the brains of all the resources in your network to identify best practices and new ideas to address these situations is beneficial.  Every problem is just an opportunity!  With all of the economic constraints, we cannot afford to be reactive.  We must be ahead of the curve.  In our case, although we were under huge financial constraints, we needed to step back and rethink how spending a bit more on the product, protocol, and training would be the right thing for our patients and actually save us significant costs in HAIs in the long run."
The changes in product and protocol, as well as education and measurement of the staff have dramatically improved the results at St. Francis.   They continue to educate the housekeeping team members on how they can make a difference, and the team is proud and excited about the results they helped deliver.  With the implementation of the new program, MDR-Ab infections were eliminated, but we also noticed a sharp decrease in MRSA infections, an added bonus!  For our team, the collaboration and the process of continuous improvement continues on.
Below are two graphs presented by Tammie Lee at the APIC 2014 Convention in Anaheim, CA that clearly depict the results of the St. Francis intervention.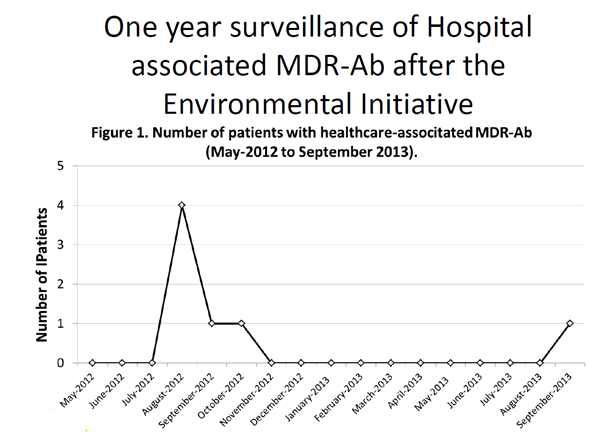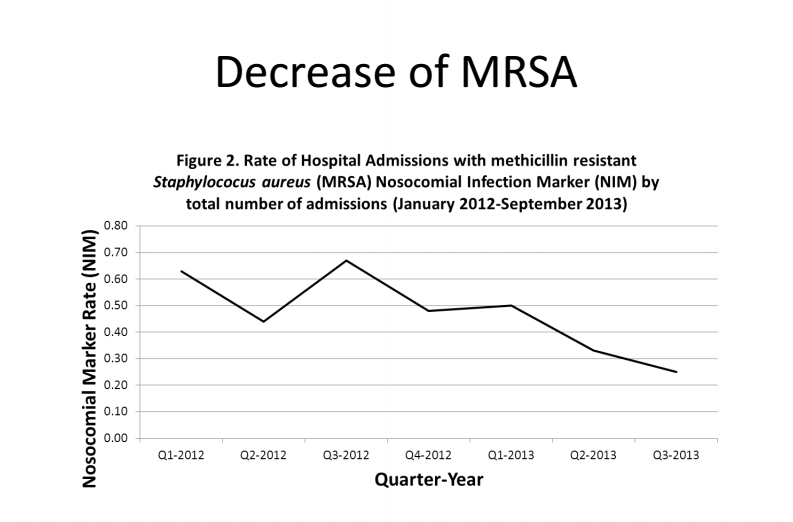 The housekeeping staff is excited they found the right protocol to provide safer environments for patients.  They now have a disinfectant and procedure that doesn't hold them up and allows them to successfully perform their very important role.
"The spotlight is on Infection Prevention, and we need to be on top of our game," states Tammie Lee.  "With the ever changing environment of multidrug-resistant organisms (MDROs), having a certified Infection Preventionist, a great surveillance system and doing timely surveillance is critical.  Identifying an 'out-of-the-bell-curve' issue and being able to address it in a timely manner saves lives.  We made positive adjustments with housekeeping and product, and would not have been able to do this without all coming together.  It is now part of our everyday lives.
Saint Francis Medical Center is a prime example of how education, product and protocol can improve results and save lives.