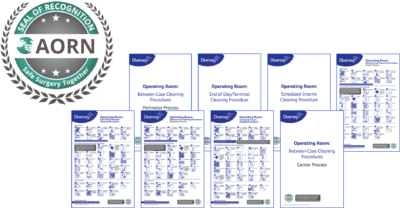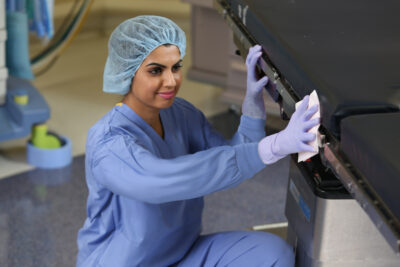 Diversey has been awarded the Association of periOperative Registered Nurses' (AORN) Seal of Recognition for its Operating Room Environmental Hygiene Program.  While not an endorsement, the Seal of Recognition is confirmation that the Diversey Operating Room Environmental Hygiene Program education materials align with the AORN Guideline for Environmental Cleaning.
The program includes training and education tools for cleaning and disinfection of procedure and operating rooms in both acute and ambulatory care settings.  The Program includes evidence-based procedures and practices designed to optimize environmental hygiene in the operating room for between-case, terminal / end-of-day, and scheduled interim cleaning and disinfection that will enhance productivity and improve the quality of performance.
"Patients undergoing surgery are at risk of developing a surgical site infection for several reasons. Promoting a clean environment in the perioperative setting should help minimize risk," said Carolyn Cooke, Vice President of Healthcare in North America, Diversey.  "Studies have demonstrated that many surfaces in a procedure / operating room are not cleaned properly, and some may be missed (AORN J. 2011 Mar; 93(3): 358-64).  Diversey addresses this risk with a comprehensive program designed to help standardize and streamline cleaning and disinfection processes to optimize environmental hygiene and improve turnover efficiency without compromising quality.  This is accomplished through the selection of products and implementation of procedures with proper training for staff to execute with excellence."
"The Diversey education program materials are an important resource for perioperative practice and nurses' ability to provide a safe environment of care for the surgical patient," said Lisa Spruce DNP, RN, CNS-CP, CNOR, ACNS, ACNP, FAAN, Director of Evidence-Based Perioperative Practice at AORN. "It is important that perioperative nurses can rely on education resources that meet AORN guideline recommendations."
To assist the perioperative community in selecting quality training activities that promote safety and optimal outcomes for patients undergoing operative and other invasive procedures, AORN has created a directory of materials and activities that have been awarded the AORN Seal of Recognition: https://www.aorn.org/industry-partners/seal-of-recognition.
Click here to request more information on the program and procedures.